Okex clone script
Okex clone script is a ready-made cryptocurrency exchange website script that helps you to launch a trading website like okex. The okex clone script describes software that has all the existing features present in the OKEx exchange platform. Because clone script is ready-made software, by using it for developing a website you will get rid of many challenges that you may face while developing a crypto exchange software. Using a clone script to develop a website will save plenty of time and energy.
Okex website
Before we start, let's get to know the okex exchange platform.
Okex is a leading crypto exchange platform that provides exchange services all around the globe.
Okex was founded in 2014. currently Okex provides exchange services in more than 200 countries around the world and about 20M users are trading on the platform. OKEx offers 24/7 online supports for its clients. Okex exchange currently supports +264 cryptocurrencies that are allowed to be exchanged on the OKEx platform. okex has the grade A in cyber security rating.

OKEx cryptocurrency exchange website features
Live list of the value of the assets that contain: its last price, change of the day the chart of the change.
Start your account and earn up to 50$ in crypto rewards. Okex exchange gives rewards for users who are new to the platform and want to start their trading.
Synced app for android, IOS, MAC, and windows
Different payments method: visa, master cards
140 top quality assets
400 trading pairs for trading BTC against USDT
Tips for creating a successful exchange website by cloning okex platform
Gain the complete knowledge about the features of the okex platform
Find the Strengths and weaknesses of the okex platform
Try to add extra features to your exchange platform that you think will be interesting or useful for the user
To understand what the traders really want Read the traders comment in related pages or social Medias to understand the users' desire. Also reading their feedback in different platform will help you to understand what they are complaining about or what the things are they don't like in exchange platforms and if this factor . These actions will give you a clear view of what users want.
The next step is embedding their wanted feature in your platform and solve the factors or issues that the users don't like.
Check out other popular exchange websites, and figure out what features do they have that attract traders to them and try to add them to your website.
Always be updated and add new features to your exchange platform.
Hire patient employees for your support team to treat and guide the users patiently in order to solve their problems.
Find reliable blockchain developer and cryptocurrency exchange platform Development company to purchase the premium clone script without security problems.
Make sure the exchange development company uses the latest technology for developing your website.
Some exchange websites are not available in some countries try to build an available website and offer exchange services in most of the countries.
Think of the ways to encourage the users to use your platform for trading. Like some exchange platforms, you can add the rewarding system to your exchange platform. For example, reward them with some altcoins for registration, or after the first transaction give them some extra bitcoins for free and other ways to attract them to your exchange platform.
Use the educational part of the website to gain more users especially new users by teaching them the helping them to learn trading subjects.
Okex Quik summary
OKEx Accounts
Funding Account:
A funding account is for users to deposit and withdraw their assets safely and instantly. A funding account is used to store, save and transfer digital assets to another crypto wallet.
Trading account:
The first step to start trading is to transfer the crypto from the funding account to one of the following accounts:
C2C, SPOT, margin, future, p-swap, or options account. for users to deposit and withdraw their assets safely and instantly. A funding account is used to store, save and transfer digital assets to another crypto wallet.
Saving account:
Saving account is an account where you collect the revenue of savings. With the help of saving account okex users can make good use of their coins.
Mining account
Mining account is used to save the revenue of the mining process in the OKEx pool.
Spot account
Users can trade fiat currencies with crypto currencies according to the exchange rate of the system in spot account.
Margin account
The name of this account describes its usability Margin account is used for margin trading. Each margin trading links to one of the margin accounts.
Option account
This account is used for options trading. This trading, it gives you the right to buy and sell a specific security. An option is a contract linked to an underlying asset.
What is okex pool and how does it work?
OKEx pool mining
OKEx pool allows cryptocurrency miners to gain cryptocurrency rewards by the process of mining in the pool. The OKEX's pool merges the trading services with the mining process. It sends the mining rewards directly to users' mining account. Okex mining pool has 11 assets and provides daily revenue.The okex mining pool is:
Safe and stable
Open and flexible
Global and reliable
The pool has three methods for mining rewards:
complete pay for each share
pay per N last share + Pay per share (pps+)
pay per share (PPS) Steps for working with okex pool: A. log into your okex account B. enter the okex pool C. set up you alias D. manage your mining dashboard E. establish your mining settings F. Choose your desired cryptocurrency to mine. G. Connect your mining machine to the okex pool
The Features of Okex Clone Script
Multilingual: it supports more than 150 crypto coins and tokens
Crypto payment gateway
API security
Trading engine
KYC/AML verifications
Margin, perpetual and futures trading with 100x leverage
Multi-cryptocurrency wallet integration
Liquidity API
Referral program
Admin and user panel
Decentralized trading
Easy interface for beginners and advanced traders.
Fast and instant way to buy/sell crypto
Supports three payment methods: credit/debit card purchases and bank transfer payments
Secure online/offline wallet
Supported mobile app for IOS and android to trade anytime and anywhere
Referral and affiliate system that rewards you in case you add new users to the platform . Based on the company that you choose to develop your exchange website extra features that you want to embed in your exchange website can be added.
Perpetual and futures trading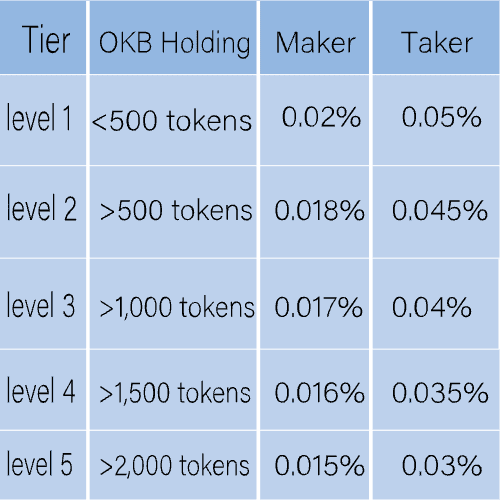 Is Okex a safe platform?
Okex has several layers of security features to protect its client against fraud, keep their funds safe, and also prevent their information to leak. Okex offers a high-security wallet to its client. Based on the research that has been done, okex has not been involved in any exchange hack or even didn't face any major security issue. So yes okex can be regarded as a safe exchange platform.
Comparison
Let's take a look at OKex competitors:

The okex offers different order types which consists of:
• Limit order
• Advanced limit
• Market order
• Stop limit
• TWAP
• Iceberg
Iceberg order: seems like a unique feature for okex exchange. These are advanced orders that are used as part of a crypto trading strategy to execute an order in potions at regular intervals of time as specified by users. This order type can reduce the effect of the market on the basket order. Last words
If you have decided to develop your website with a clone script you better choose a reliable company with expert workers in the field of crypto exchanges that offer premium okex clone scripts. Radin dev is one of the trustworthy companies that has proved itself by the successful website that it has developed.