A large part of a successful social media strategy involves monitoring metrics and analyzing the performance of your posts. As Facebook is the largest network with 1.55 billion users, it is often the first site brands turn to.
Thankfully there is no shortage of Facebook analytics tools to help maximize its potential. Some of these tools offer analytics for multiple social media sites, which makes sense when 91% of brands have multiple social accounts.
Many of the tools in this list often cover more than just Facebook, so you may find them useful beyond an analysis of your Facebook page.
The first eight are free or offer a free tool. We've also included six paid options if you want to explore more detailed analysis.
---
Free Facebook Analytics Tools
Of course, the first place to start is Facebook itself, which provides analytics through the Insights platform.
The tool is available to any admin of your company page once you have over 30 fans.
It provides detailed metrics about your posts and the engagement they earn. Audience analysis, including demographic and location breakdown, can help you better understand your fans.

Engagement metrics can be seen in an overview or for each specific post, helping you to understand what type of content works best.
The Likes page breaks this down into paid and organic, so you can analyze the value of your promoted posts. There are further metrics on video views, actions taken on your page and the reach of your posts.
The level of detail is impressive. Even if you choose to employ another Facebook analysis tool you will probably use that in conjunction with Insights.
---
A simple, free-to-use tool that allows you enter any Facebook page without authorization to measure and analyse its performance.
It gives the page a grade out of 100, and compares this with other pages in the industry. This means you can have a sneaky peek at your competitors' pages too.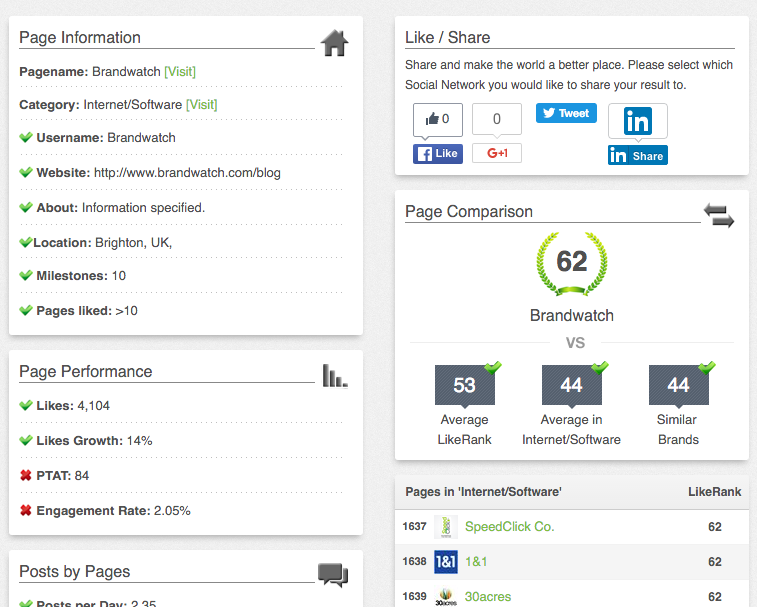 The report includes various sections which each come with a metric and suggestions for improvement.
Metrics like engagement rate, timing, and length of post all have recommendations to improve your output and help you drive more engagement.
LikeAlyzer is a free tool provided by Meltwater, who also offer more detailed analytics.
---
Simply Measured has four different free Facebook reports which offer some real insights.
First is the Insights report, which repurposes Facebook Insights data into some great looking graphs. Information includes engagement, reach, stories, post type, impressions, page likes, traffic sources, fan statistics, activity, and demographics.
There is a competitive analysis report, allowing you to compare 10 fan pages with up to 250,000 fans. It shows overall comparative metrics in a series of charts, engagement on admin posts, customer service response rates, as well as the top post with a variety of engagement metrics for each.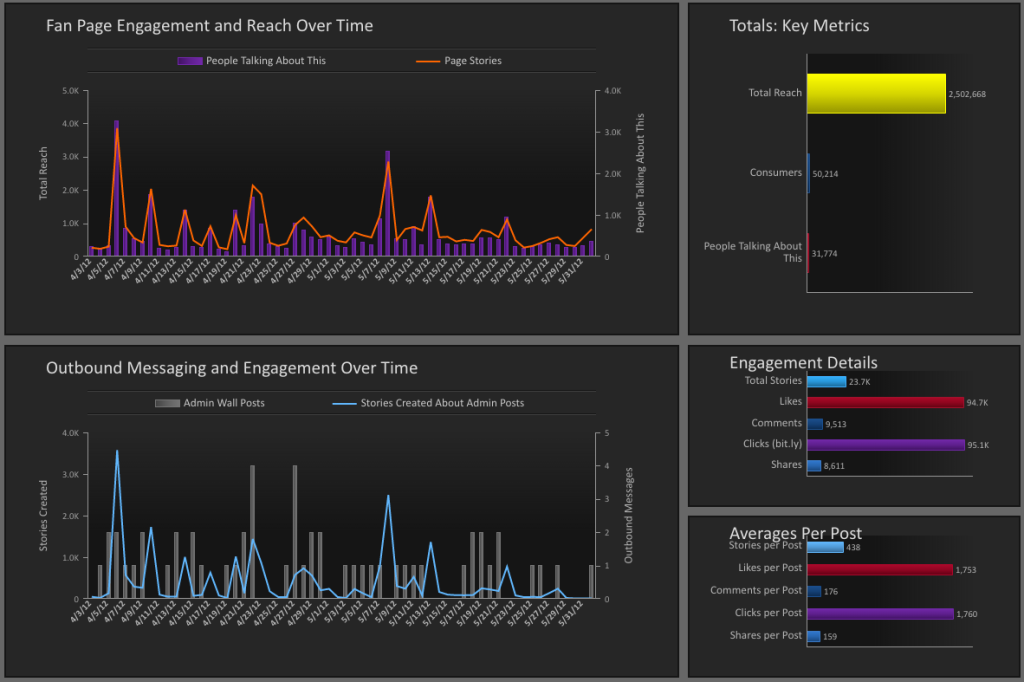 Next is an in-depth fan page report, with a large number of engagement, community, and content metrics.
Top users are sorted by number of posts, comments, and total engagement. There is time of day/week analysis and an analysis of top links, domains and posts.
The last report concerns content analysis. Features a breakdown of your content, surprisingly enough. Post types, engagement, common keywords and top domains all feature in this report.
Cost: Four free reports, but the main suite starts at $500/month.
---
Once you have authenticated you can analyse any Facebook fan page for free.
It shows the total number of posts, authors, commenters and likers. It also displays the average number of likes, shares and comments per post, the different post types, and the top posts in the chosen timeframe.
You can go all the way back to when the page was first created. Sure, it doesn't provide a huge amount of actionable data, but it sure looks pretty while it's calculating it.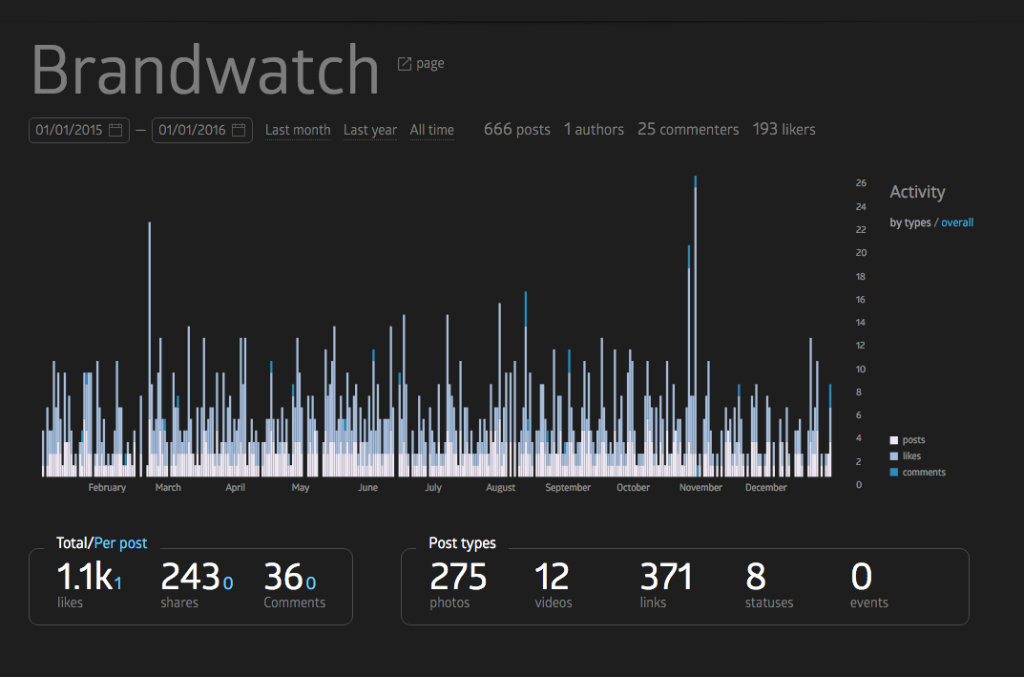 Cost: Free
---
Agorapulse offers two free Facebook tools. One allows you to benchmark your page, telling you if your content is performing above average and which metrics require attention. The second allows you to run competitions, quizzes and sweepstakes on your timeline.
The main suite is a management and engagement tool for several social media accounts, including Facebook.
As you engage through Agorapulse it tracks your response rate and time to reply. The tool includes the most influential users and user who talks about you the most.

Detailed reports including page level and timeline level analytics.
You can see a breakdown of paid, organic and viral reach. You can understand which type of content works best, and it has a calculator to work out the ROI of your Facebook marketing. Reports are customizable and can be downloaded as a 20 slide powerpoint presentation.
Cost: Two free Facebook tools available. Main suite $29/month with a no-questions-asked refund policy.
---
Cyfe isn't strictly speaking a Facebook Analytics tool.
It's an online business dashboard that integrates a wide range of widgets to cover a different aspects of your business. The right choice of widgets can cover marketing, client data, finance, web analytics, sales, and of course, social media.
In fact, there isn't just one Facebook widget, but over 50. You can customize your dashboard to display only the data that matters to you, with an impressive degree of segmentation.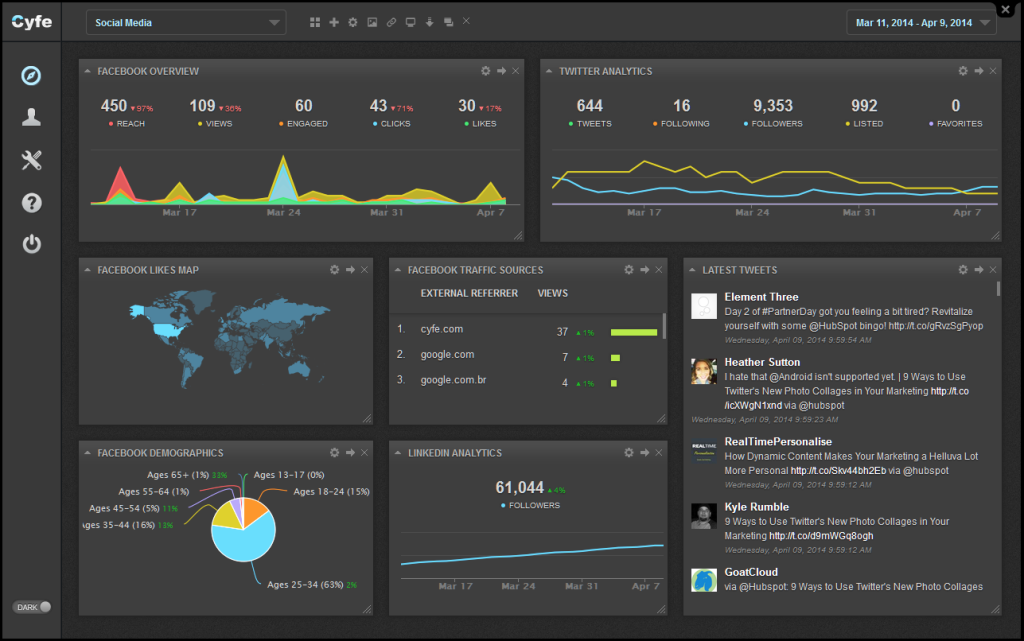 You can start with an overview of your page metrics, then dive in deeper with widgets that display stories, posts, views, likes, impressions, check-ins, users by country, adverts and more. You can download reports of your data in various formats.
Cost: Cyfe is free with limited dashboards, a premium account is $19/month.
---
Quintly covers Facebook, Twitter, Google+, LinkedIn, Instagram and YouTube, but it has a free tool for Facebook analytics. The main suite is another dashboard tool, coming with a standard dashboard that can be customized to suit your needs.
You can have multiple dashboards to track different clients or customers.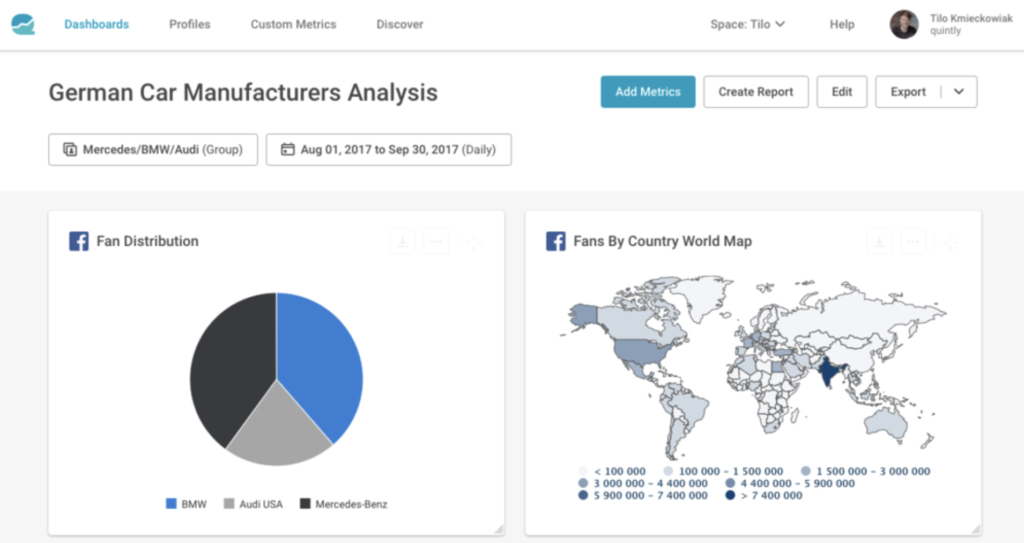 It covers your social profiles and that of your competitors, visualizing data to help you understand the best content and comparative metrics. There is data covering influencers, customer care, sponsored post detection, content, and more. In fact, the analytics cover over 250 metrics, and reports can be easily generated and customized.
Cost: Facebook analytics tool is free. Full suite prices start at $129/month, with a 14-day free trial.
---
Offers analytics that cover the usual suspects: sentiment, demographics, summaries of performance.
You can monitor the effectiveness of your Facebook advertising and track organic social mentions. It has a publishing section, so you can create and schedule posts across multiple social accounts.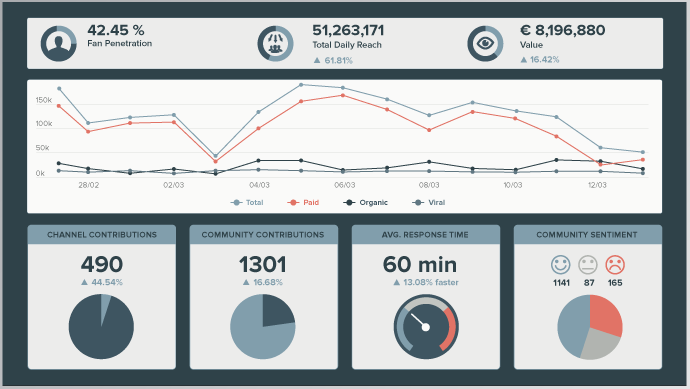 It contains the ability to segment your accounts by language or country, so you can still schedule posts if you have multiple language accounts. Has an alerts feature that will notify you of impending problems via SMS.
Cost: A free, simple Facebook analytics tool is offered. A suite of more detailed tools are available, with prices on request.
[bw_also_like id="67495″]
Paid Facebook Analytics Tools
Gain insights about your audience, their demographics and activities. Tracks your reach, (paid and organic), engagement, (including types of behaviour) and content (different types of posts). Produces reports and gives you recommendations based on the data.
You can schedule and publish posts, and easily manage your workflow if working as part of a team.
You can receive alerts, helping you stay on top of any negative comments and avoid crises.

The tool allows you to track any brand, meaning you can use it for competitor analysis and industry benchmarking.
Cost: From $13/month, with a free 14-day trial.
---
Enter your Facebook page and Scoreboard Social will send you weekly emails that include rankings, growth metrics, trends, unique authors engaging with content and engagement metrics.
It is another tool which compares your performance with competitors and industry leaders.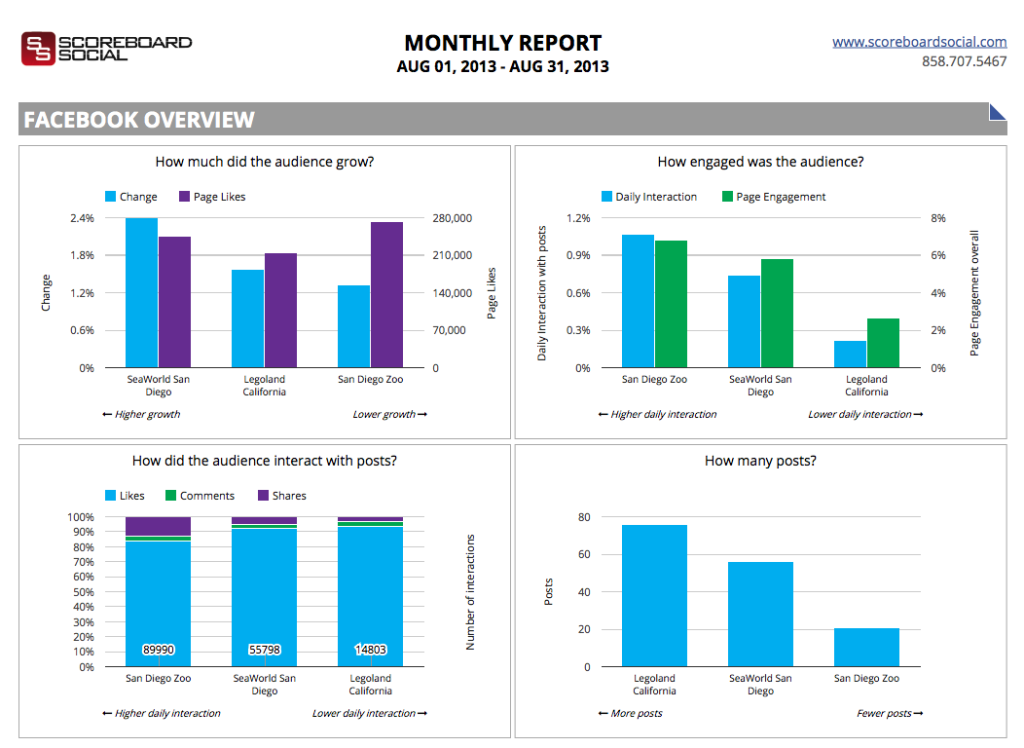 The report shows the top updates from competitors by engagement, so you can understand the content that is working in your industry. The tool also covers Instagram and Twitter.
Cost: Prices begin at $14/month, and all plans come with a 30-day free trial.
---
Features a web-based dashboard that shows real-time insights and provides detailed statistics about your content and audience.
Includes sentiment analysis and influencer scores, and allows your team to work collaboratively on projects.
There are alerts to keep you up-to-date with any issues. This is another app that covers multiple social networks, including Facebook. Brand24 has a mobile app so you can keep up to date with your social media analytics on the go.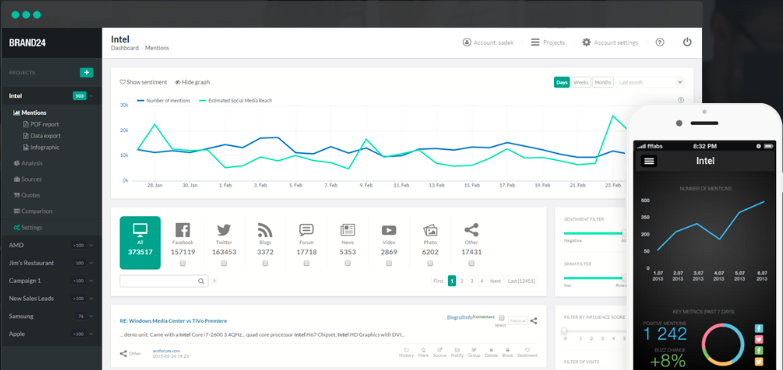 Cost: 14-day free trial, a personal/small business package is $49/month
---
Tracks Facebook, Twitter and YouTube, both for your pages and that of your competitors.
This means your reports can focus exclusively on your own page or compare your facebook metrics to your competitors'. You can choose from their template or customer build your own, and download it as a PDF. Includes fan count and growth, and location.
Post engagement includes the usual breakdown of times and engagement types and response rates. There is a breakdown of your top five most engaging posts (over the timeframe of your choosing).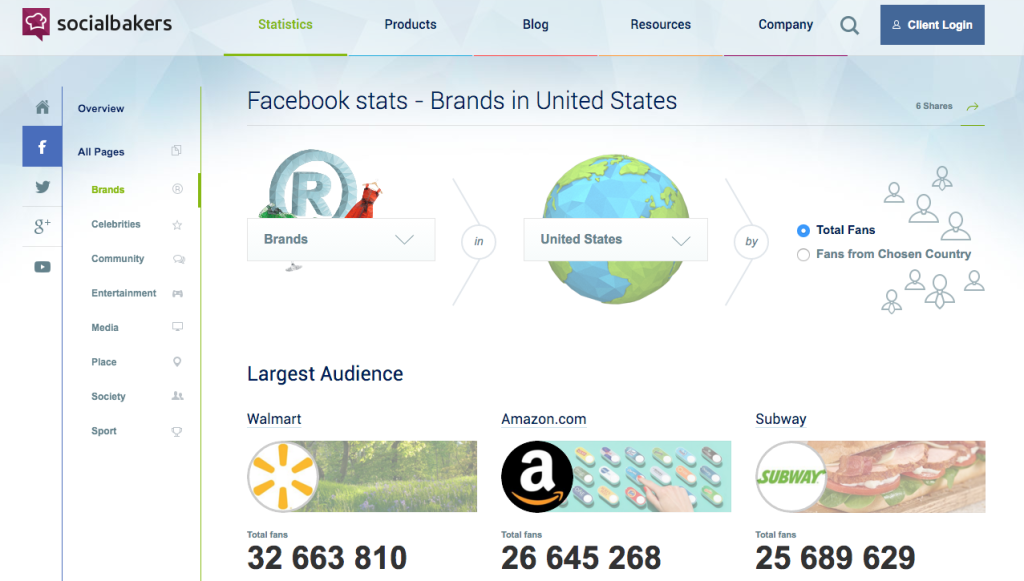 Cost: Prices start at $120/month for a single profile, with a 14-day free trial.
---
Rival IQ provides analytics for a wide range of channels.
This includes a range of social media (including Facebook of course), and SEO, SEM, and web page analytics. In addition to looking at your own data, you can create a landscape of your industry to keep an eye on your competitors.
The platform covers a range of metrics. This includes audience, influencers, mentions, engagement, and sentiment. It has an unusual feature which monitors all of your competitor's social media bios, and updates you should any of them change.
There are different types of reports available, or you can build your own. The platform has alerts, meaning you can stay up to date on popular posts from competitors.
Cost: Plans start at $199. 7-day free trial available.
---
Unmetric is another tool that offers a more complete social analysis than just Facebook, also including Twitter, YouTube, Instagram, Pinterest and LinkedIn. Track your own pages, your competitors, and compare these to an industry benchmark. The analytics are in-depth and varied, including all the metrics listed for the above tools.
The charts include a welcome feature that provides a plain English overview of each one, listing 'highlights' and 'insights'. You can view a breakdown of types of stories posted to your or competitor's accounts (event, content, advert, employee stories, etc). A real strength is in campaign categorization, which lists different campaigns and a breakdown of post types, engagement, and top posts.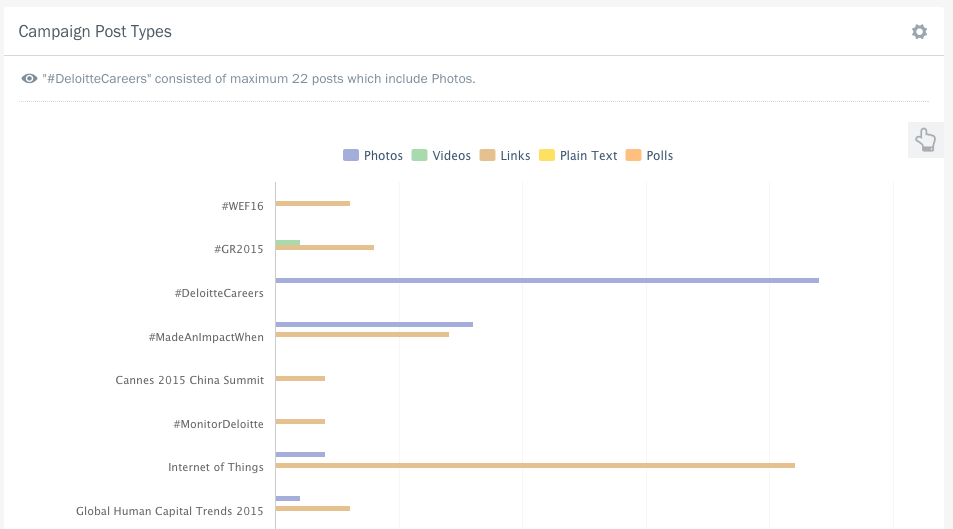 Another strong feature is the ideation and content discovery, which provides ideas based on topics, competitors or industry, or allows you to search for keywords.
A free trial and live demo is available, with brand prices starting at $490/month.
---
Brandwatch offers social media analytics covering over 80 million sites.
Our Channels feature allows you to track any Facebook page, meaning you can discover what works for you. Because there is no authentication required, you can do the same for your competitors.
There is a whole host of metrics, including data on your fans, reach, likes and 'People talking about this' (a Facebook metric about how many people have created 'stories' from your post).
Our topic clouds and sentiment analysis are also featured, and posts include our Impact Score so you can discover which individuals and posts are driving the conversation.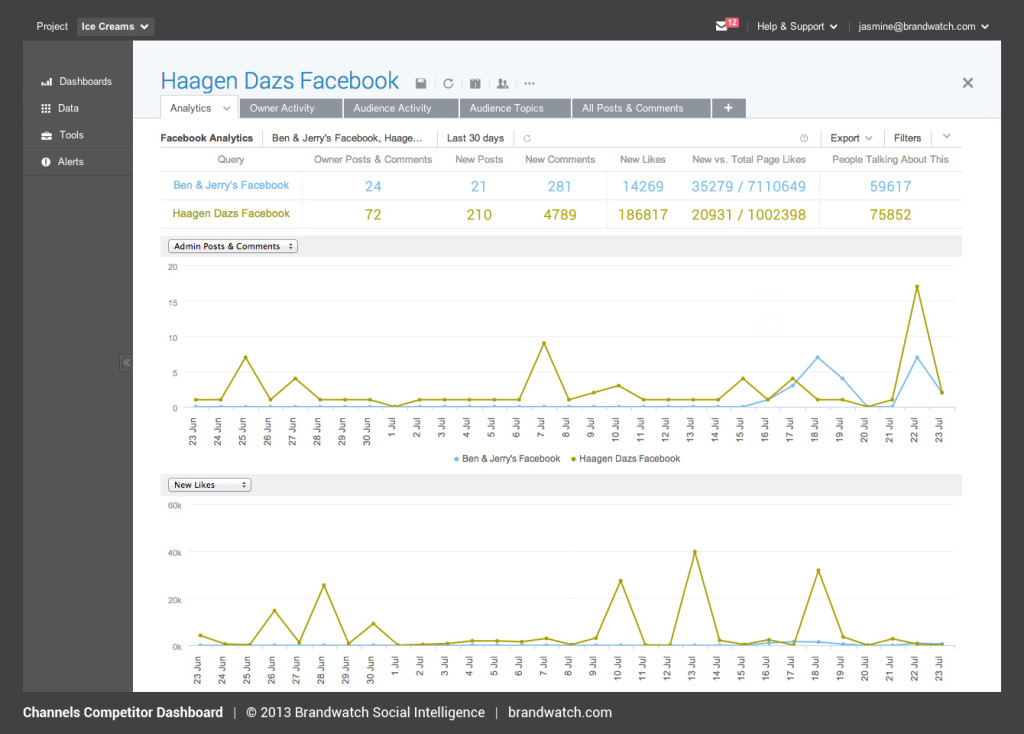 We bring the power and customization of Brandwatch to Facebook analytics. Tags, categories, rules, Alerts and Signals allow you to segment the data and automate processes. This allows you to make sense of the sea of social data and react to any crises or trends as fast as possible.
If you are looking for an enterprise solution to social intelligence that covers Facebook, along with millions of other sites, get in touch for prices and a free demo.
[bw_banner_cta type=2]Detailed monitoring of your entire online presence to drive better results[/bw_banner_cta]