If you want to go a bit deeper than Instagram's own analytics offering, this list is for you.
Instagram has been expanding its marketing options for some time, and accordingly the number of brands marketing on Instagram has grown from 11.5% in 2013 to 32.3% in 2015.
Furthermore, it is one of the best platforms to advertise on – a Forrester report has shown that engagement with brands on Instagram is 10 times higher than Facebook, 54 times higher than Pinterest, and an astonishing 84 times higher than Twitter.
Luckily, there are several Instagram analytics tools available to help brands understand what resonates with their audience and how they can optimize their content output.
Top 7 Free Instagram Analytics Tools
Simply Measured offer a free Instagram report in exchange for following their Twitter account, and the level of detail on the report makes that a great deal.
It's available for users with fewer than 25,000 followers, and the data is available in easy to read charts, or raw numbers. You can also download the data into Excel to analyze it further yourself and create custom charts and graphics.

The report shows a wide range of engagement metrics, including most engaging tags, the best day and time to post, most popular location and even top filter, and highest engagement on sites outside Instagram.
Top posts are displayed and sorted by engagement. You can discover your most active commenters and the most common keywords in the comments.
Social Bakers offer a free Instagram analytics tool. Although the offering is fairly basic and doesn't offer too much insight.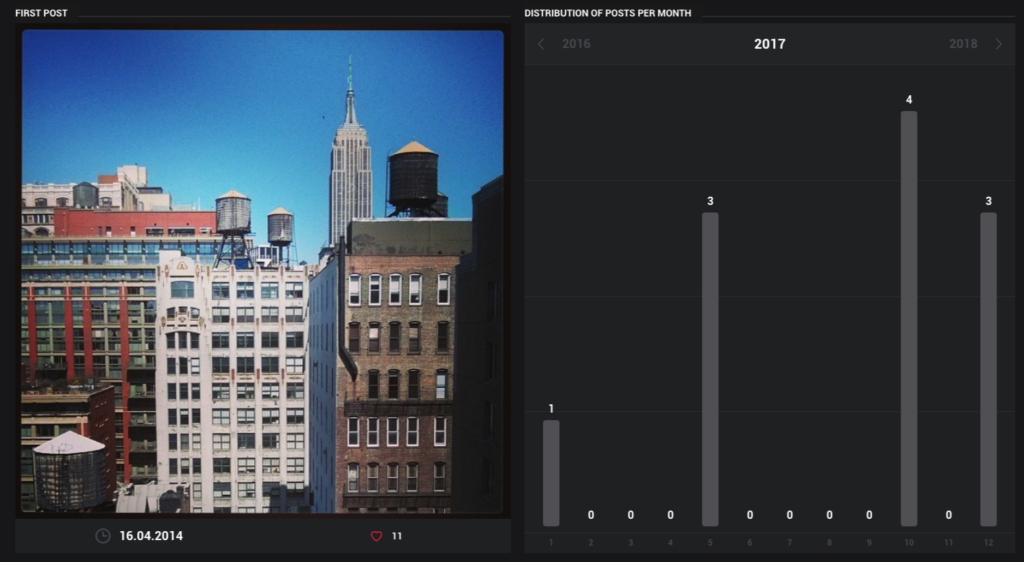 You can see what your top posts are, most used hashtags and tagged accounts, plus general stats on your number of posts, and followers. There isn't much here overall. It might be worth logging in to have a look around, but it's unlikely people will regularly use this.
Squarelovin is an admirably in-depth tool for a free analytics platform. It displays metrics on recent posts and growth, a monthly analysis, and a history of your posts broken down into year, month, day, and hour.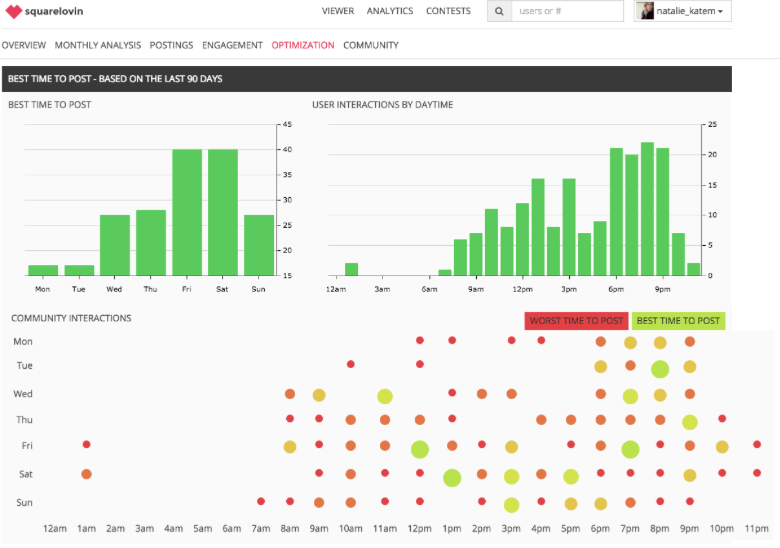 There are tabs that show engagement with your photos, both average and top posts, and an optimization tab that shows your best and worst times to post.
You can also manage your Instagram account from within the platform, creating albums, and liking and commenting other posts.
[bw_also_like id="67495″]
Union Metrics offers a free account checkup, covering the last month. The report is generated using a few of the algorithms from their paid analytics platform.
While the report isn't exactly comprehensive, it does a few things well.
The focus is on picking out a few metrics and posts to compare them with your average, helping you to identify any patterns and themes. You can refresh the report every 24 hours, allowing you check how newer posts perform against the average.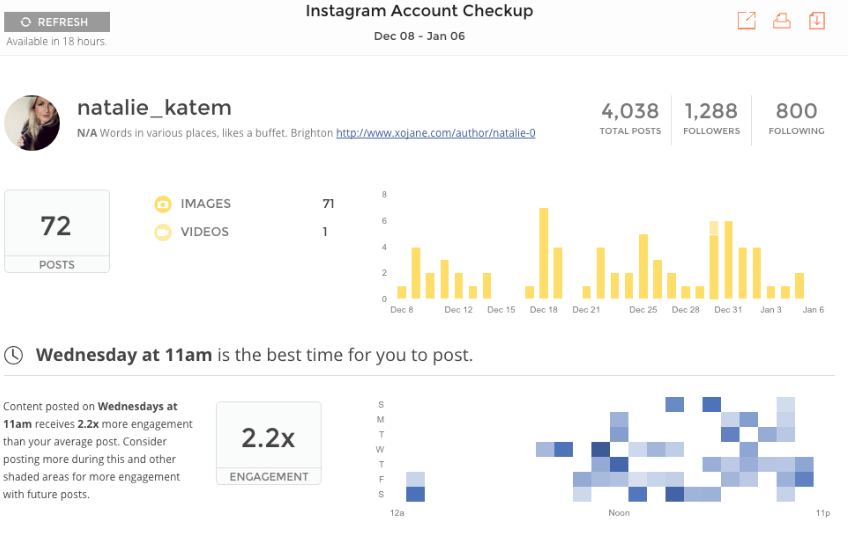 The report shows you how many people have interacted with you and your top fans.
The times you have posted over the last month are shown on a graph, and the best day and time to post is displayed, including details of how much more engagement that time receives compared to your average.
Hashtags are given the same treatment, plotted on a scatter graph to compare the most likes and comments per post.
Quintly is a dashboard tool that covers several social networks. It comes with a standard dashboard that can be customized with widgets to suit your needs and track the metrics that matter to you.
The tool provides Instagram analytics for followers, both of your profile and that of your competitors, with detailed follower statistics. You can analyze your Instagram content, the interactions generated from your photos and videos, plus details on filter usage.
Quintly also covers Facebook, Twitter, Google+, LinkedIn, and YouTube. There is a free tool for Facebook analytics and a 14-day free trial for Instagram and others. Paid plans then start from €129/month.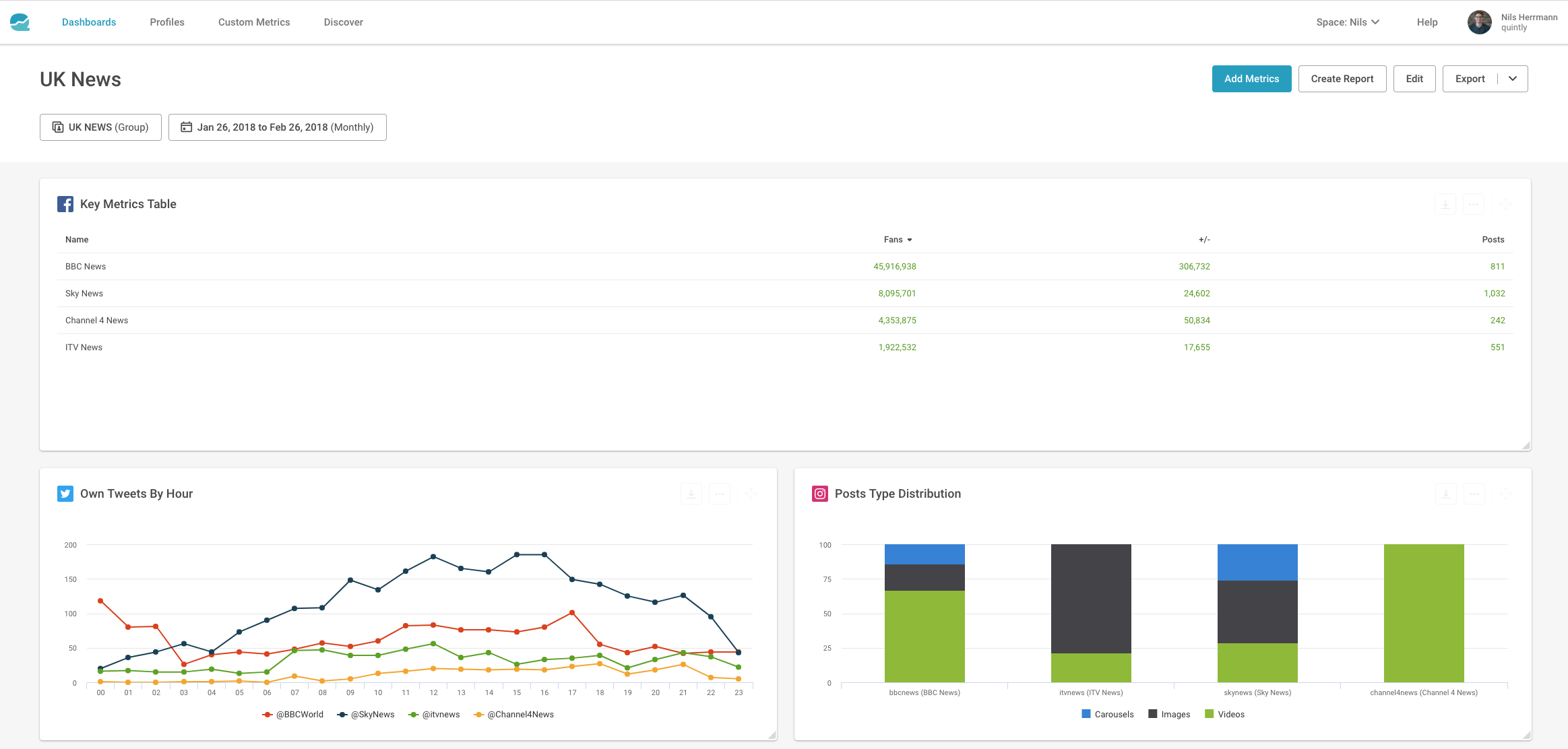 Iconosquare offers a 14 day free trial of their complete platform. This allows access to the analytics, as well as some other useful and interesting features.
There is an extensive range of analysis on offer, which starts with an overview of activity in the last seven days or the last month.
A tab for content shows distribution, density, tag and filter usage and geolocation. The engagement tab shows growth history, the source of engagement and most popular media.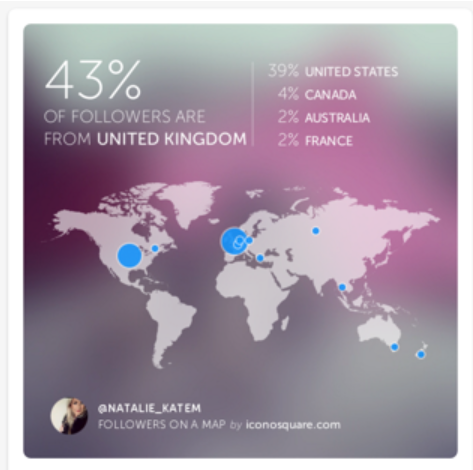 The optimization tab covers posting times, average media lifespan, tag impact, and a breakdown of filter impact. Finally, for analysis there is a community tab, showing details about your followers and followings.
In addition to the analysis there are 'snapshots'; shareable images based on your Instagram data. You can view your media, likes, and followers, and manage comments.
There's also a feature that allows you to create a profile cover from your latest 50 photos, and a widget to showcase your Instagram photos on your own website.
Pixlee's free offering will give you weekly reports on your Instagram accounts.

There's a decent amount of data available, from your top performing content, influencer information, along with follower growth and hashtag tracking. One of the better options on this list, we recommend giving it a go.
---
Measuring beyond the basics
This list showcases tools that provide a great starting point for Instagram analytics, and will be suitable for individuals or small businesses.
Having said that, the average internet user has 5.54 social media accounts. Brands have to be active across multiple sites, and indeed 91% of brands use two or more social media channels. Therefore you will either need to find a tool for each social site you use, or find a solution that covers multiple social networks.
Brandwatch features Instagram channels, meaning you can track detailed metrics for your accoutns, and that of your competitors. If you'd like to discover why Brandwatch is rated number one for customer satisfaction, please do get in touch for a free demo.
---
[bw_banner_cta type=2]Optimize your social presence. Brandwatch provides powerful insights for 85m+ sites.[/bw_banner_cta]