Getting to know your competitor's strengths and weaknesses is the foundation on which to base good strategy. For brands, the growth of online activity has seen competitor analysis methods, metrics and tools blossom.
There is now no shortage of competitor analysis tools on the market, and each can offer insights relevant to its own particular niche and contribute to competitive benchmarking. We've compiled a list of tools that cover a range of areas, from paid adverts to email marketing. You just need to decide which part of your competitor's business you want to spy on.
General Competitor Analysis Tools
While many tools target a particular niche, these tools analyze multiple areas of your competitor's online marketing strategy to give you an overview of their efforts to spot potential avenues for growth.

Kompyte – Compare traffic, referrals, visitor behavior, keywords and search rankings, paid ads, and site by site social metrics. Stay updated with competitor emails. You can input competitors to track, or let Kompyte suggest them based on the keywords you are tracking. Prices start from $95/month, with a free 14-day trial.
SimilarWeb – Provides an overview of website traffic, referrals, search traffic and keywords, social media, display advertising, audience, and similar sites and apps. Prices will depend on what you want from the service.
SEO and Keyword Analysis Tools
Spyfu – As well as tracking backlinks and rankings, Spyfu has a great keyword feature showing how many keywords your competitors rank for and how much their keyword focus overlaps with yours. Several features are available for free (with data limits), prices start from $33/month and there is a 30-day money back guarantee.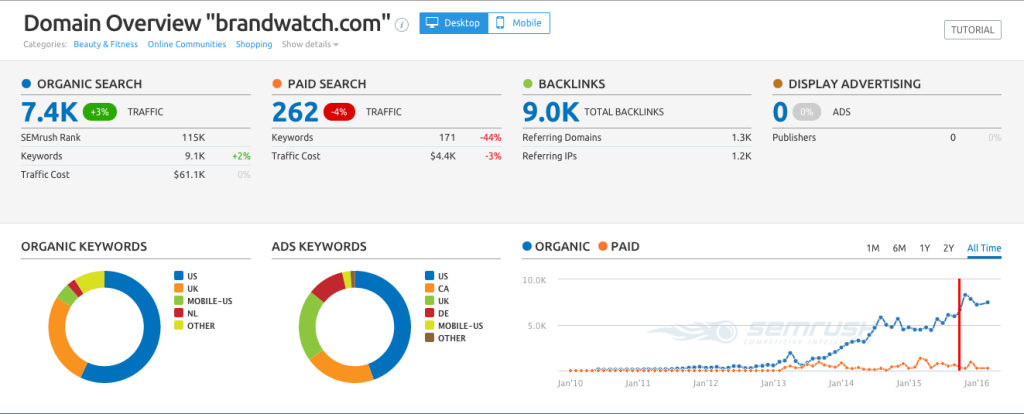 SEMRush – Analysis shows a range of metrics around keywords, paid search, and rankings. You can search 10 URLs which will show limited results. To see all the data you need to upgrade, with prices starting from $99/month.
Ahrefs – With free and paid options, Ahrefs is a great SEO and keyword research tool. You can use it to see what your competitors are ranking for, how much organic traffic they're getting, and see what content of theirs is performing the best. It's not too expensive either.
Backlink Analysis Tools

Open Link Profiler – A wide range of link analysis is available, including an overview of backlinks, country and industry breakdown, and link age. Links have all been confirmed as active in the last 90 days. The free account is detailed, but access to the full range of SEO tools starts at $49.95.
Monitor Backlinks – New links, lost links, new competitor's links and weekly domain changes will all be emailed to you once you have set up your account. Prices start from $24.90/month for 1 domain and 2 competitors, and a 30-day free trial is available.
Content Discovery Tools
Feedly – There is no shortage of news aggregator sites available. Feedly allows you to customize the sites you are following, so you can segment by general industry trends, clients, competitors. A browser extension exists to quickly add sites to your feed. A Pro account is $5.41 a month, but the free version will keep you up to date with content without any fuss.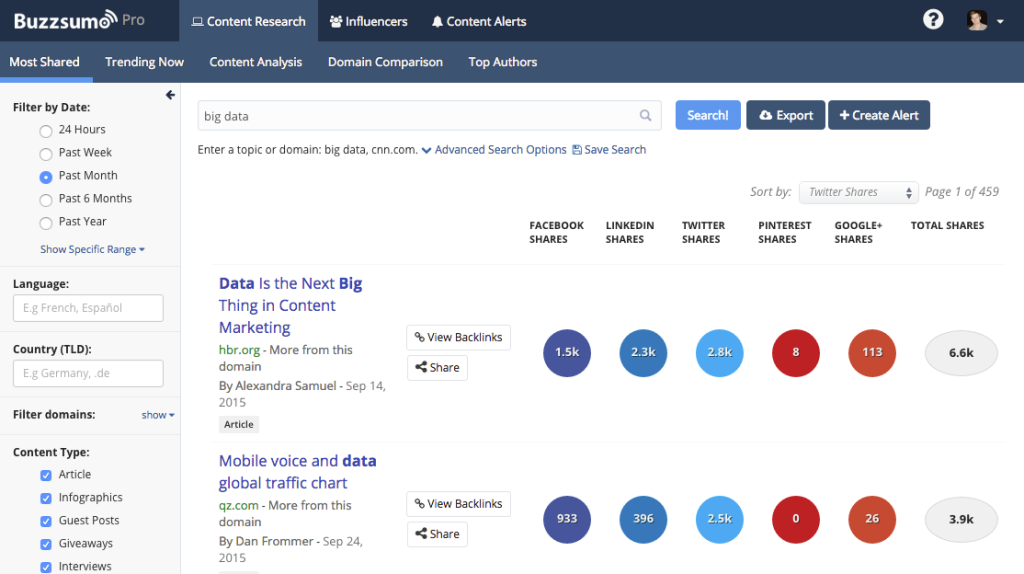 BuzzSumo – The free tools allow you to search for content by keyword or entering a competitor's URL. You can then refine the search by publish date, content type, and shares across social sites. It also has a trending section for different industries. More data and tools are available in the paid account, with prices starting at $99/month.
Paid Advert Tools

iSpionage – The tool identifies your top PPC competitors, reveals their monthly budget and entire Adwords strategy. You can access seven years worth of PPC and SEO keyword data. Prices start from $29/month.
Whatrunswhere – See where your competitors are advertising and what their ads look like, and how effective these adverts are. You can also access campaign data from 150,000 top performing display publishers. Prices start from $299/month.
[bw_also_like id="69165″]
SERP Rankings Tool
Searchmetrics – This is an incredibly powerful suite of tools. There's a number of paid options (some of which will only be affordable for big agencies), but you can get a free taster. As part of this you can get a Searchmetrics SEO visibility score which shows how well a domain is ranking. You can then chuck in some competitors to see how they're performing too.
Web Traffic Tool

Alexa – Founded 20 years ago and owned by Amazon, Alexa ranks sites based on their traffic volume. Alexa also provides metrics such as daily pageviews per visitor, bounce rate, time spent on site and demographics. The basic plan starts at $79/month, but you get your first 7 days free to see if the tool is right for you.
Email Newsletter Tool

Owletter – Owletter collates your competitor's newsletters and homepages into a dashboard, giving you a searchable database that keeps your inbox free. Prices start at $5/month, with 5 competitors covered.
A/B Testing Tool

iSpionage – We've included them again as there are so few choices in this category Knowing when your competitors are conducting A/B tests can be invaluable. It offers an insight into their campaigns and approach, while giving you a warning system if they're about to try something new. iSpionage offers this as part of their $99/month package along with a bunch of other features. Certainly worth a look.
E-commerce tool
Prisync – Prisync tracks competitor prices and available stock automatically and reports this in a web dashboard or e-mail alert. A free account is available, paid starts from $49/month.
Mentions and Social Tool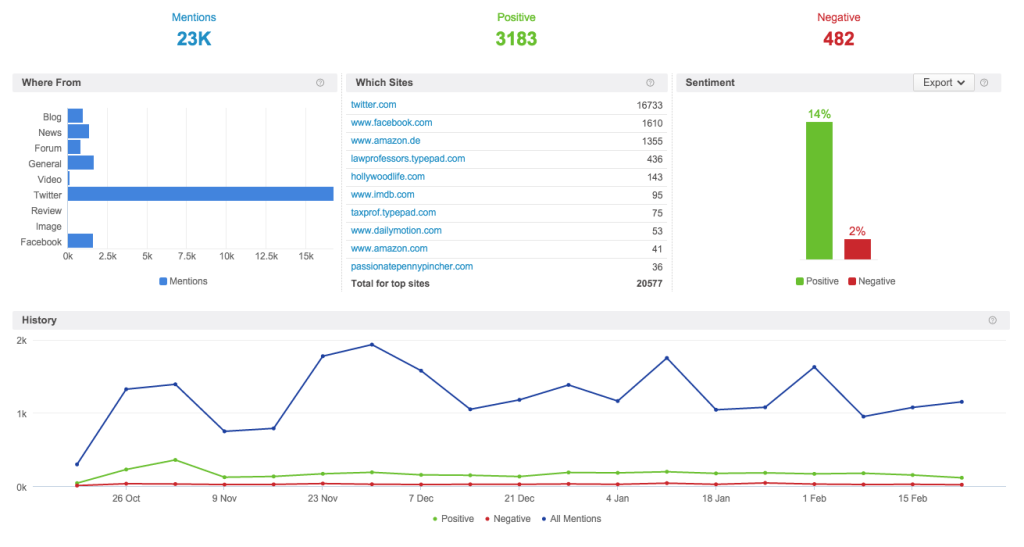 Brandwatch Analytics – You couldn't have been expecting anything else, surely? With detailed searches, categorization, rules, alerts, and over 85 million sites monitored, you can refine the platform to monitor what matters to you.
Our Facebook and Twitter channels allow you to monitor your competitor's social media output. You can create searches to track all mentions of your competitors across the web, staying up to date with their content and news stories.
Track the entire conversation around your industry to watch changing share of voice, monitor sentiment around each brand, keep tabs on your competitor's content, and discover new business opportunities by uncovering conversations you never knew existed. Alerts and Signals will notify you of trends and news.
---
[bw_banner_cta type=2]Uncover true insights about your competitors using market leading social intelligence[/bw_banner_cta]