With so many Twitter analytics tools out there, it's hard to know which ones to trust with your Twitter account.
Some may wish to track the tweets about their brand or competition, some will want to engage with leads or clients, and others may wish to track the success of their campaigns, among tons of other options. You can plenty of this with Twitter search.
But if you're looking for a free Twitter analytics tool that can do more, this list will come in handy.
However, bear in mind that these free tools are not an alternative to enterprise tools, such as Brandwatch Analytics, aimed at helping advanced businesses discover, analyze and make sophisticated use of all their social data (not just Twitter).
That being said, let's take a look at some of the best free Twitter analytics tools currently available.
---
1) Twitter Analytics – Boost your impact on Twitter
You don't have to venture far to find a great analysis tool for your Twitter profile.
Recently, Twitter rolled out their analytics platform for anyone with a Twitter account, not just for business accounts. With Twitter Analytics, you can learn all about your Tweets and how they resonate with your audience.
The site is divided accordingly into 3 different categories: Tweets, followers and Twitter Cards. It allows you to take your data to a more detailed level. Click on any Tweet to get a detailed view of the number of retweets, replies, favorites, follows, impressions or clicks it receives.
With Twitter Cards, you can attach photos, videos and other media to your posts to drive more traffic to your website.
Diving into the Followers category, you can quickly see how people engage with your Tweets over time and explore the interests, locations and demographics of your followers.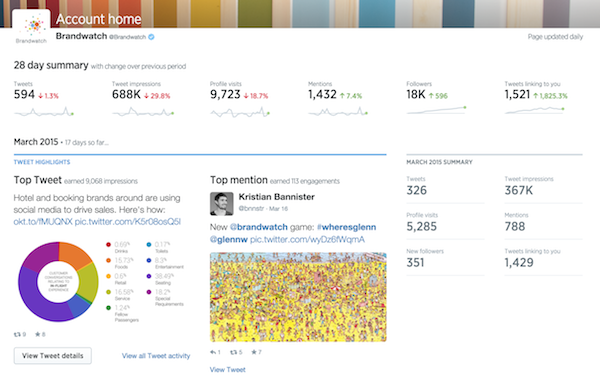 ---
2) Hootsuite – Collaborate, schedule & report
Hootsuite is one of our personal favorites as far as Twitter management and reporting is concerned.
It's a freemium tool, meaning that you can use the free plan if you have fewer than five social profiles to manage. It enables teams to collaboratively execute campaigns across multiple social channels from one secure, web-based dashboard.
With a Hootsuite account, you can launch marketing campaigns, schedule posts in advance, identify and grow audiences on Twitter, create custom Twitter reports, track hashtags, mentions, Twitter lists and much more.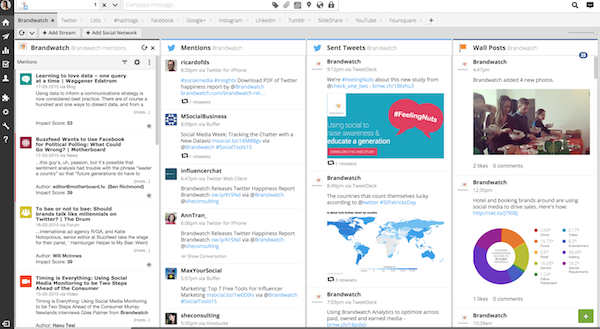 ---
3) Buffer – Distribute your Tweets
For those who wish to simply schedule and spread Tweets out over the best possible times during the day, try Buffer's free plan.
Balancing posts throughout the day tend to convert better, especially when your stakeholders are based across the world in different timezones.
Users who tend to Tweet in short bursts no longer have to miss out on valuable followers with this browser-based app. If you have found something online you would like to Tweet, press the little browser button (easy to install) and share away, without having to leave what you're reading.
Buffer is deemed the smarter way to do your Twitter analysis, helping you determine what your audience loves out of the content you share and optimize the time of your publishing to maximize engagement.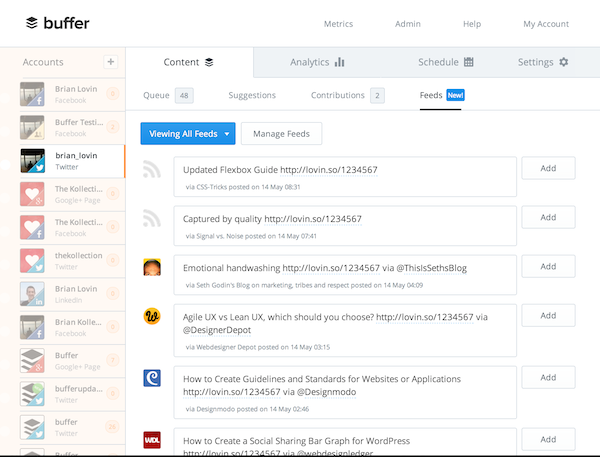 ---
4) Tweetchup – how often are you mentioned?
Tweetchup's main page tells you how many times your account has been mentioned, and by who, as well as how many times you've been retweeted.
You can see your most followed followers, allowing you to do some basic influencer research. There's also a nice map feature that shows you where the mentions you've generated were based.
Tweetchup also allows you to enter any Twitter handle to see a range of metrics – great for doing some competitive analytics.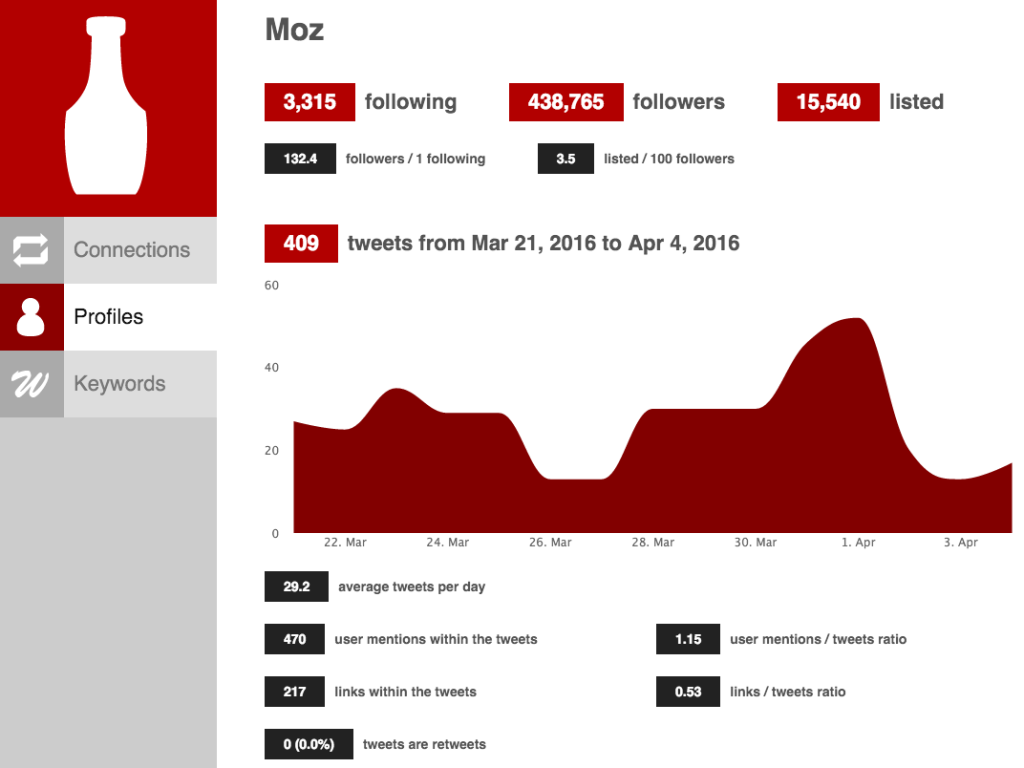 Finally, an advanced search box allows you to find Tweets from specific date ranges, to or from a particular user, containing links and more. This feature comes with a simple guide so is very easy to use.
---
5) TweetStats – Optimize your timing
You guessed it, TweetStats provides statistics for your Twitter usage.
This tool helps you keeping track of your Tweets by the hour, day or month and tells you how far your messages travel.
If you would like to find out what time your competitors are posting, the days of the week, the average number of Tweets etc., then TweetStats is probably your best bet.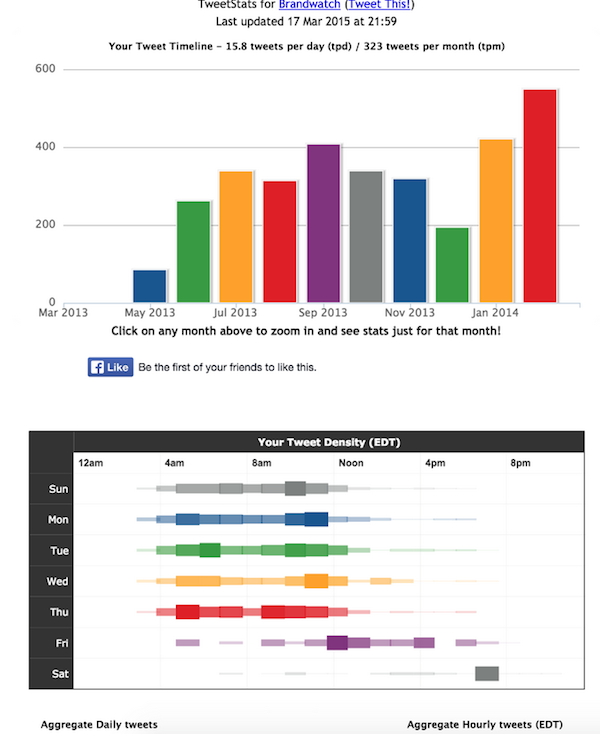 ---
6) Klear – Identify top influencers
Klear doesn't offer too much functionality for the new users, but there is some of use here.
First, you can search for top influencers in five professions across a number of countries. Some of these might be useful, but the other 59,995 professions only come with a paid plan.
The second part is far more useful. You can analyse the social accounts of five users a day. This will give you a number of metrics, including influence, engagement, and 'true reach'. The latter being an average amount of people reached for each social post across their channels.
There's even data on best performing posts, demographics, the websites they share, and who they interact with. This can really useful to get a better understanding of your own social performance, and it's also perfect for seeing what your competitors are doing too.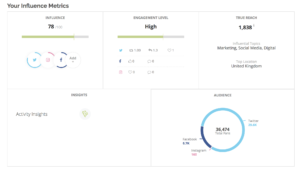 ---
7) Twitonomy – Discover your key Twitter stats
Twitonomy is a very robust tool that offers different methods of Twitter analysis for your account and those of your competitors.
All you have to do is sign in with your Twitter account and provide your competitors' Twitter handles.
Twitony will then show you details on Twitter lists you're both part of, your most popular Tweets, engagement statistics and much more.
Tracking conversations on Twitter based on keywords, users, or lists is a breeze with Twitonomy. It will break down any Twitter account into graphs and digestible stats.
As a bonus, you can visualize where in the world people have mentioned your Tweets, allowing you to better understand the geographical impact of your Twitter activity.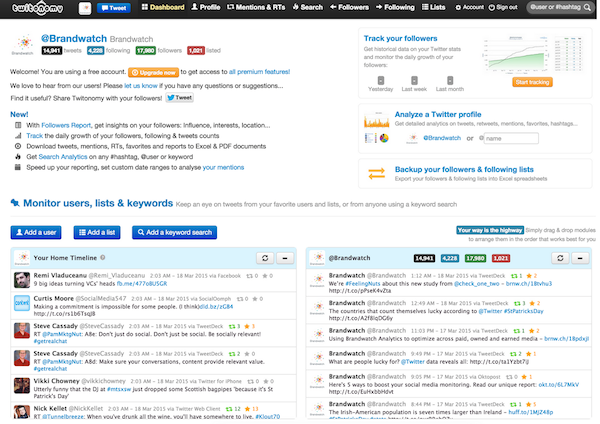 ---
8) Mentionmapp – Map and grow your followers
Then there's Mentionmapp. With this web service, you can map your network and the network of others.
Mentionmapp builds a visual map of hashtags and username mentions based on the people you've been engaging with in your most recent Tweets.
It will also show you with whom those people have been having conversations on Twitter, meaning you can quickly discover new relevant people in your niche.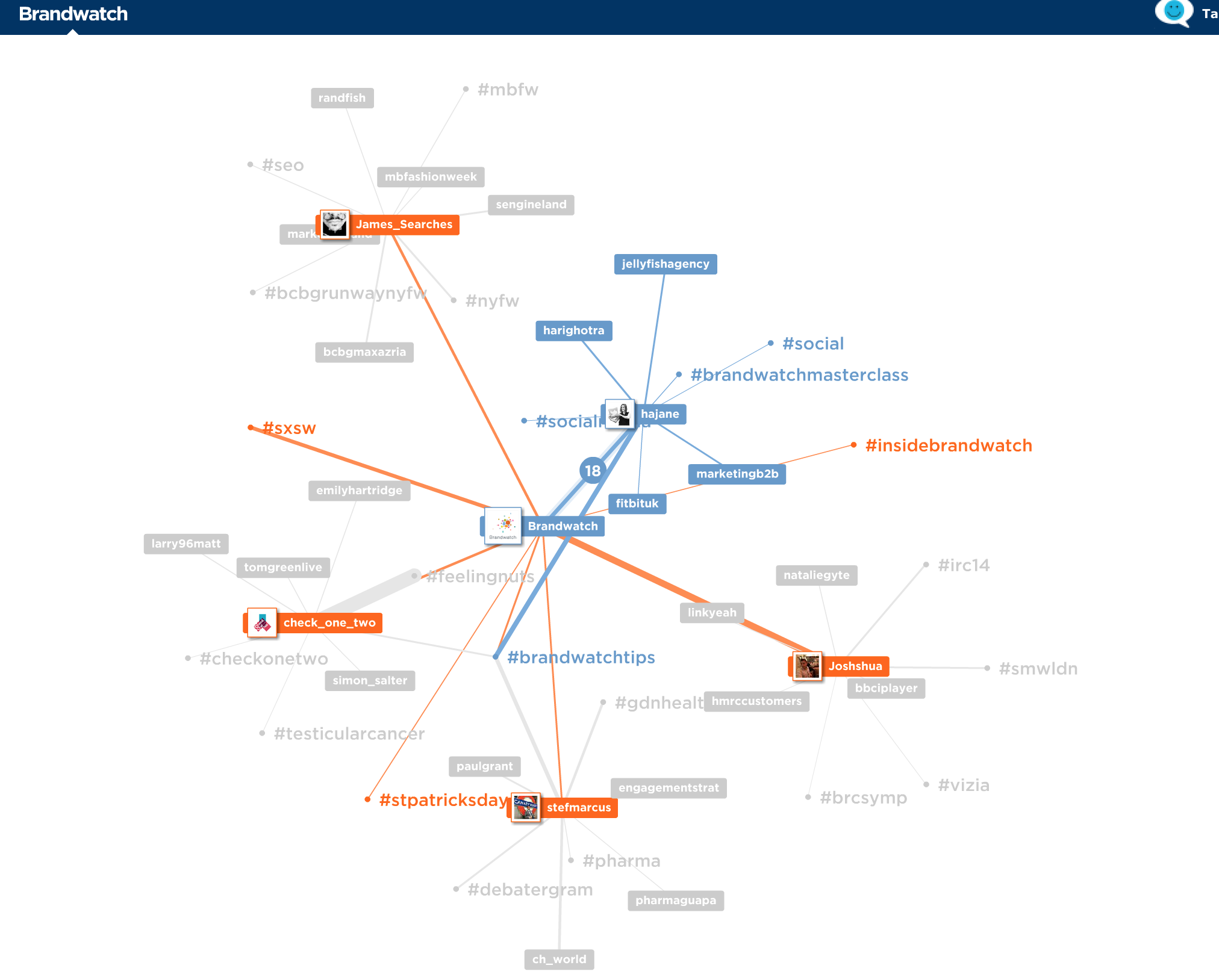 ---
9) Twitter Counter – Analyze follower growth
If you're interested in a tool that analyzes your follower growth and is easy to digest, it's worth looking into Twitter Counter.
This tool lets you monitor your Tweet volume and follower growth against two of your key competitors on a daily basis. It will require you to tie your Twitter account to their site, but it's safe to do so.
The data that it collects is by all means basic but the browser plugin offers a variety of features such as performance, recommendations, overviews and average interactions.
Twitter Counter's API allows anyone to retrieve each and every piece of information it has about a certain username. It will also estimate the number of followers you'll gain based on how this number has increased over the past week.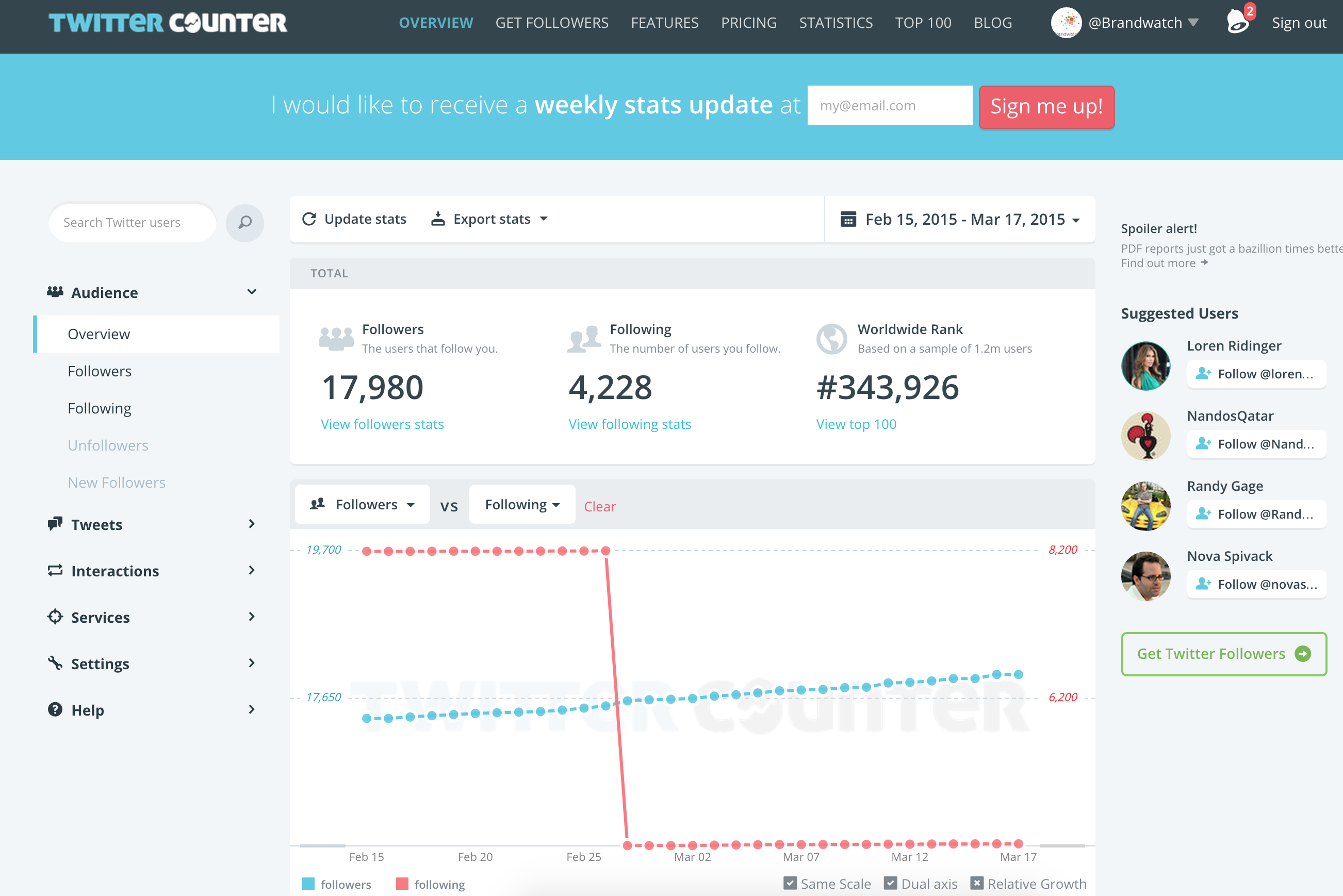 ---
10) Tweetreach – Measure the reach of your Tweets
Curious to know how far your Tweets have traveled? If so, TweetReach is the tool for you. All you have to do is insert the URL of the page or article you'd like to analyze and you'll find a detailed breakdown of the last 50 Tweets you've sent.
Tweetreach will provide you with a density graph to show when your posts are hitting the largest amount of your followers.
Another great use of their free version is to run Twitter reports of how far your Twitter handle, keyword or hashtag has reached. It will show you the number of accounts reached, number of impressions, number of retweets, top contributors, most retweeted Tweets, list of contributors and a timeline of your Tweets.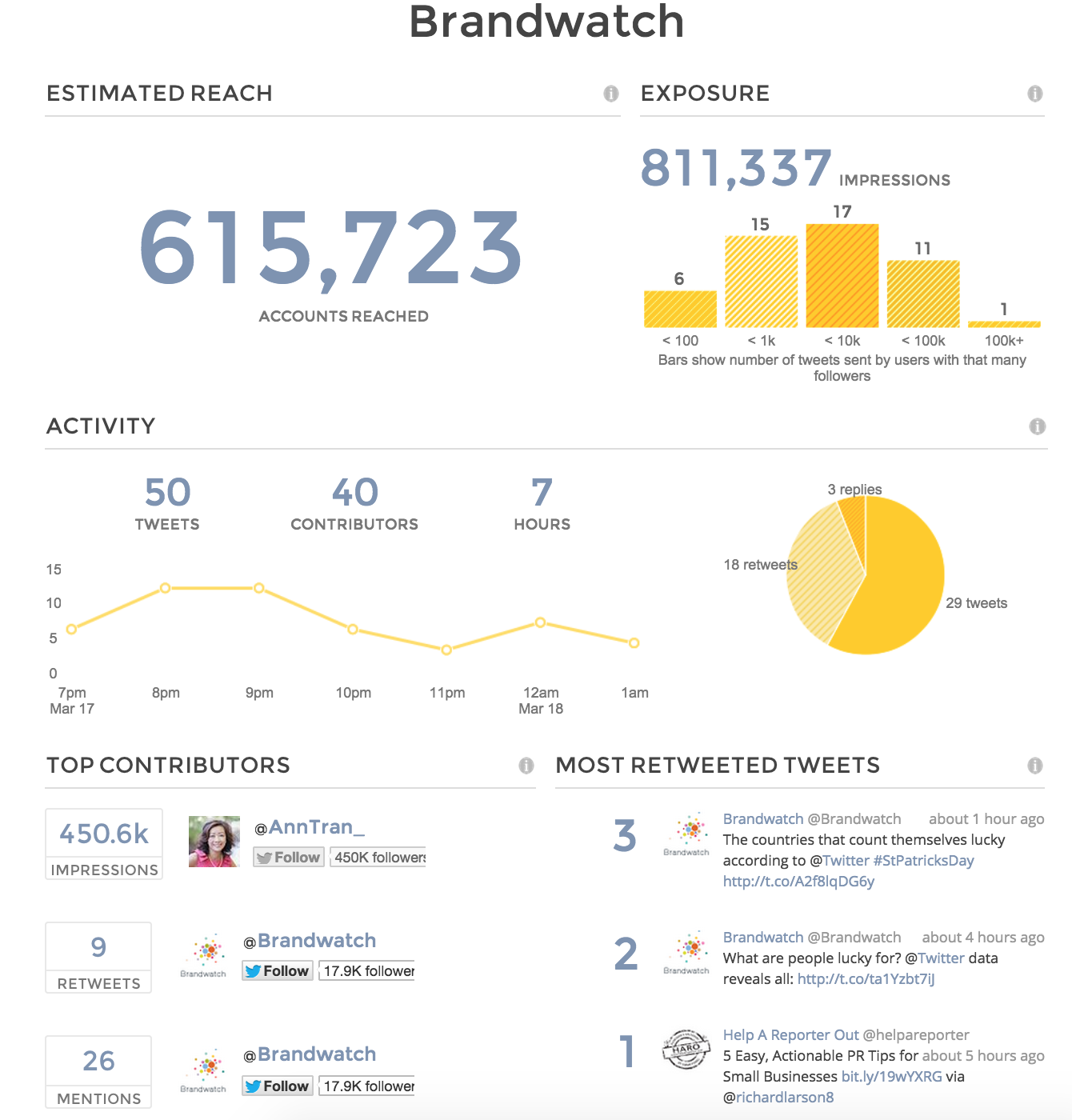 ---
11) foller.me – Analyze a public Twitter account
This tool is excellent for getting an understanding of someone's Twitter account. Completely free, you just plug in their username and you get a bunch of data.
There's quite a range. Some is really basic, such as follower counts and the date the account was created. Other information is more in-depth, with top topics, hashtags, and accounts @ mentioned.
There's also some tweet analysis too. It gives you some insight into how they use their account, such as how much they reply to people or retweet things. You can also see when the account is most active.
This can be a great tool for some basic research on influencers, or if you want to see the best way to interact with someone else on Twitter.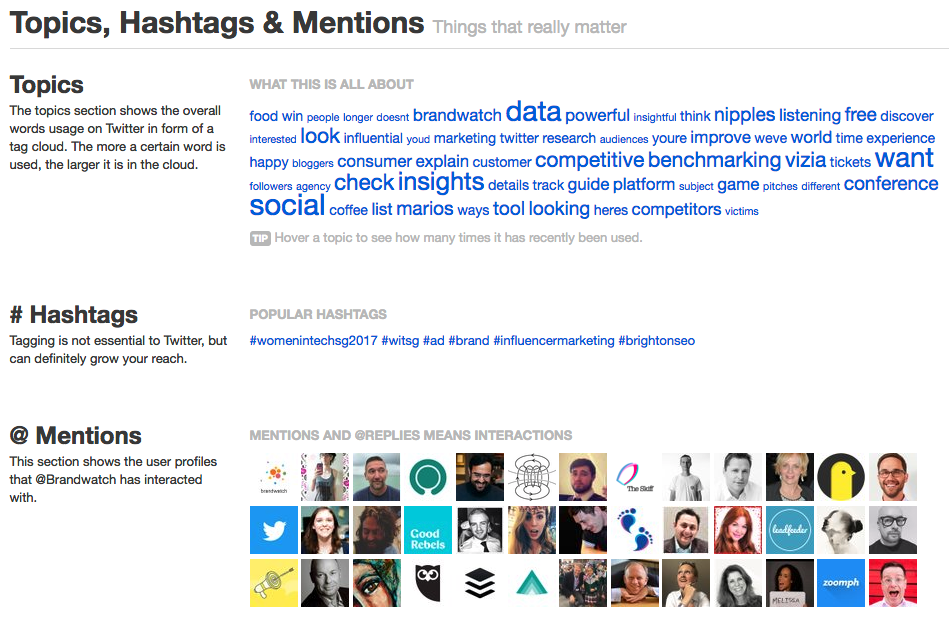 ---
12) Followerwonk – Search bios and analyze accounts
Followerwonk is a freemium tool. There's lots of free functionality, but if you want extra features and larger reports you'll need to pay. It's still a great tool without paying though.
Handily, you can search bios for certain words. This can be a good way to find people for influencer marketing or people to target yourself (although our Brandwatch Audiences tool does this and a lot more). You can then sort the list by followers, social authority, and other metrics.
You can also compare users to see how has the most followers, highest engagement rate, or average number of tweets. On top of that, there's the ability to see when your, or another account's, followers are most active.
Each of the free tools above provide a great start point for conducting basic Twitter analysis.
If you are looking for greater flexibility and more extensive features then you might consider looking at our own platform, Brandwatch Analytics.
Brandwatch Analytics gives brands and agencies the ability to conduct deep analysis of Twitter. As an Official Twitter Partner, we give you the ability to analyze any Twitter account or public Tweet.
Want to learn more? See Brandwatch Analytics in action by booking your free demo.
---
[bw_banner_cta title="Advanced Twitter Analytics" type=2]Uncover more insights with Brandwatch Analytics.[/bw_banner_cta]